---
GET FREE 5 N95 MASK
Warranty: Warranty upto 6 months from date of invoice. Warranty program is conditional subject to terms and conditions of the manufacturer.
ACCURATE & QUICK READINGS
Oximeter 209 features hospital-grade precision sensors for easy and clinically accurate results. It is a quick & precise method to check Pulse Rate (PR), Blood Oxygen Saturation (SpO2), and Pulse Bar Graph readings within seconds on a large size TFT display.
MULTI-DIRECTIONAL TFT DISPLAY
Features Easy to read digital display. Carrying an excellent design, this fingertip pulse oximeter comes with a large size TFT display.  The bright large screen rotates in 4 directions to provide you a clear view of all your measurements for an easy read.
SUITABLE FOR
This product is intended for spot check of PR, Blood Oxygen Saturation (SpO2), and Pulse Bar Graph at home or during outdoor sports activities like running, biking and rock climbing, etc. Its finger chamber is latex-free and wide enough to fit on a wide range of finger sizes.    
PORTABLE & CONVENIENT
This is a lightweight and compact size device that is easy to carry with you for use either at home or outdoor. A lanyard and 2X AAA batteries are included in the package for convenience or use anytime, anywhere.
IN THE BOX
The package includes everything needed to use it right out of the package. 2 AAA batteries included in the package for your convenience.  One set of batteries can give you up to 30 hours of continuous monitoring.
EASY TO USE
This is a small clamp-like device that can be placed easily on the fingertip. Press the button, a small beam of light passes through the finger and afterward, the display will show the result. 
Accurate SpO2 and Pulse Rate Readings at Your Fingertips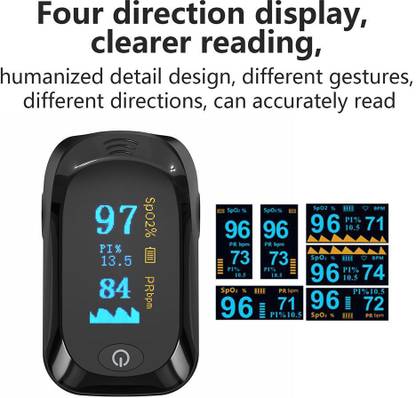 There is no risk of errors as the pulse oximeter comes with photoelectric oxyhemoglobin inspection technology for advanced automated scanning. It gives an accurate measurement of the oxygen saturation of the blood (SPO2) and pulse rate with ± 2% accuracy by collecting the signals from your fingertip.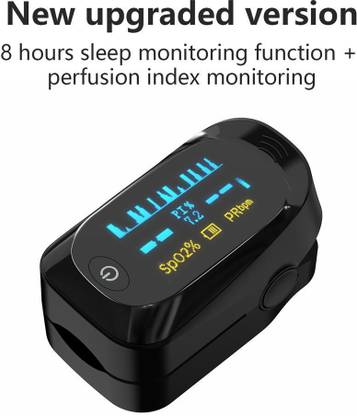 The pulse oximeter makes your blood oxygen measurements easier than ever.  You can use it in three simple steps. Install two AAA batteries by removing the back cover. Put inside your finger and press the button to switch on the pulse oximeter. It provides quick results on a large digital display.
Viewing a reading is pretty easy from all directions. It displays the SPO2 and PR with bar-graph, & Plethysmogram on a large & bright display with a short press of a button. If you want to view the plethysmograph (Pulse), you need to use a landscape view.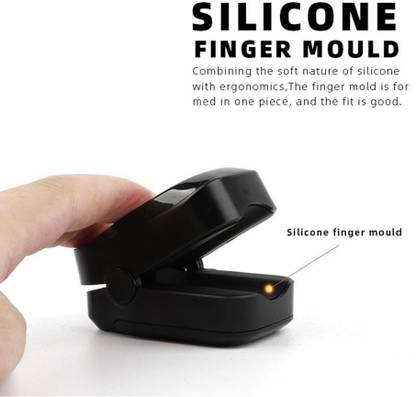 Oximeter- 209 is a safe, reliable, and robust device. Its probe equips a high-quality medical-grade silicone finger chamber that is hypoallergenic and latex-free. It is easy to clip on the fingertip and works for a wide range of finger sizes.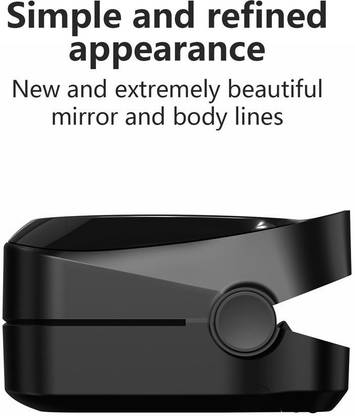 The compact size pulse oximeter weighs approximately 54 gm and requires 2 AAA batteries to work. A lanyard is provided to hang on the body for convenient usage during traveling.  It powers off automatically within 8 seconds after the finger left.
Applicable people include health and sports enthusiasts. It helps in prevention of hypoxia and a great device for mountain climbers, skiers, athletes, and all others who are interested in measuring their blood oxygen level. As all necessary things are included in the pack, you can use it right out of the pack anytime, anywhere.